Representing UK-based biobanking at Global Biobank Week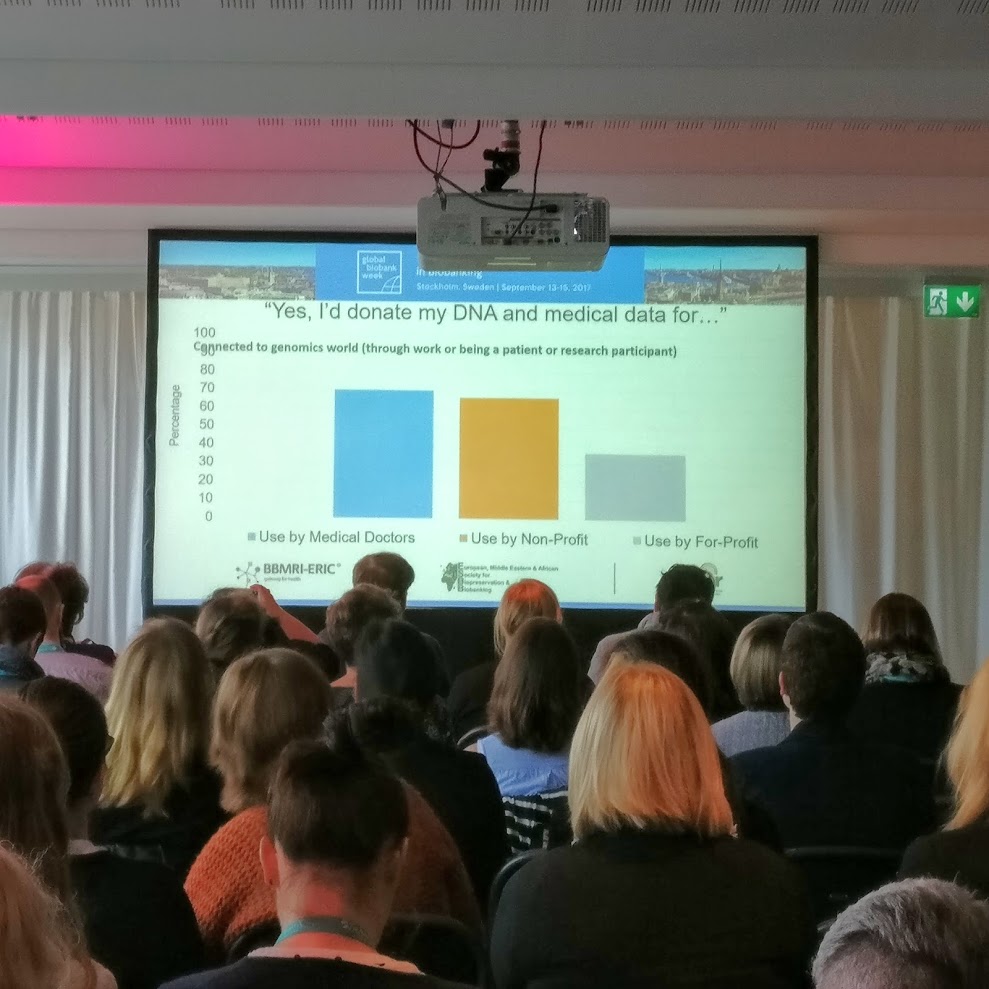 This week, our Engagement Manager Jessica Mai Sims reports her experience at Global Biobank Week.
Global Biobank Week was held in Stockholm this in September 2017. This year the conference was hosted as a collaboration between BBMRI-ERIC, ESBB and ISBER. Phil and I represented UK-based biobanking activities on behalf of the Centre, joining over 850 attendees.
A highlight of the week was Gregory C. Simon's opening talk on the Cancer Moonshot Taskforce. The talk definitely set the mood of the conference to be about sharing, trust, and collaboration. Global Biobank Week's programme was varied while still covering popular topics like public trust, quality, sustainability and the different ways biobanks are networking in their country contexts. Phil was invited to the conference as a State of the Art Speaker to present an overview of biobank directories. In the session he asked delegates to focus on what we can improve with what we have currently, rather than creating more directories! Throughout the conference delegates were busy tweeting, providing an excellent summary of the favourite moments and reflections of the week.
Harmony in biobanking
We were keen to present the excellent work going on in the UK in line with the conference's  motto, 'Towards Harmony in Biobanking'. This was the first time we've opted for an exhibition stall as opposed to attending as delegates. Our stall aimed to publicise the collaborative approach we're taking to join up biobanking research infrastructure which fit well with the conference theme. Catherine Blewett, Health Research Authority joined us at the stall to help represent the UK. The three of us really enjoyed making new connections and hearing about other countries' work and research environments.
The stall provided an opportunity to offer our visitors a place to stop, sit and chat. I think it is an approach we will take in the future as it was really useful to have a base for networking. In the background we played our collection of video case studies of UK-based biobanks which were submitted last year as part of the Biobanking Showcase. Visitors were then able to put faces and facilities to names as they tried searching the Tissue Directory for potential sample sources. We also managed to fit in a few games during the week - both ours and from others! Our modest stall was also among friends, placed upstairs in the exhibition hall alongside the Global Biobank Week family of ESBB, ISBER, and BBMRI-ERIC (including B3Africa) exhibition stalls.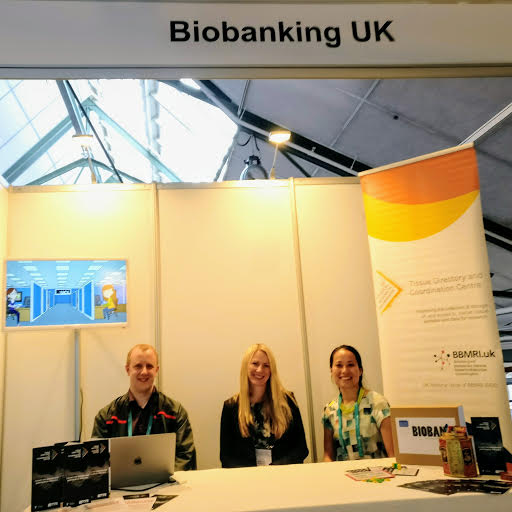 The UK in Europe
To start off the week, Phil and I attended some pre-conference meetings related to the BBMRI-ERIC CS-IT and stakeholder engagement work. We were also joined by Victoria Chico who was representing the UK for the CS-ELSI work. There was good attendance from the other national nodes and so we were able to catch up with colleagues about what's going on in their countries. We also had the opportunity to get to know some of the new staff of BBMRI-ERIC HQ - Erik Steinfelder, the Director General; Francesco Florindi, Engagement Officer and Jasjote Grewal, ELSI Helpdesk Coordinator. We are looking forward to working with them, as well as the rest of the BBMRI-ERIC team during this new period.
It's just been announced that next year the programme reverts back from 'global' to 'Europe Biobank Week'. We will circulate the conference information and programme as soon as we know more! For now, we look forward to next year's conference in Antwerp!